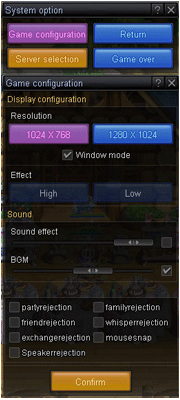 Options allow the
player
to personalise his/her gaming experience. In order to access the options of the game Nostale, the player can see a small cog icon at the bottom right corner of the game sceen. If the player hovers his mouse over the icon, it should say "System options".
System Option
Edit
Through System Option, the player is able to:
~Acess Game Configuration
~Select his/her channel
~Return to game
~Close the game.
Game Configuration
Edit
The Game Configuration (displayed to the right) can be accessed through the system option. This allows the player to change the display resolution of the game (player has the option of choosing either 1024x768 or 1280x1024), change from full-screen mode to windowed mode or back, change the level of quality (high or low), change the volume of sound and background music seperately, or choose to automatically reject all party/friend/family/exchange/speaker/whisper requests by simply checking the boxes at the bottom of game configuration.
Selecting Channel
Edit
Depending on server, some servers allow players to choose a channel. Currently, Nostale Global has 2 channels, Nostale UK has 3 channels. Usually, Channel 1 has the most players, but also lags the most, while channels 2 and 3 tend to have less players, and less lag. Some events only occur on Channel 1, such as Instant Combat.
Closing the Game
Edit
To close the game Nostale, players simply select "Close" through the System Option. The game character and quests are automatically saved.