Nosmates (otherwise known as partners) are NPCs which can join you on your journey, and help you beat monsters. They can be very useful tanks.
A character can only have three nosmates, and one following him/her. The other two will stay at the Miniland. The player must be at least a higher level than the nosmate to recruit him/her, eg. a player must be 35+ in order to recruit Kevin.
Where to get Nosmates
Edit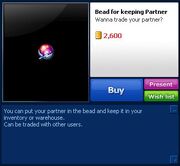 Nosmates can be recruited at certain
timespaces
. Once the timespace is completed, the nosmate may join the party, if the player is at the right level (higher than the nosmate). If a player completes the timespace before he is of a higher level than the nosmate, he can always repeat the timespace again.
Nosmates are also buyable. This would require a Nosmall item called "Bead for keeping partner". This works like a pet bead, and a nosmate must be put into the bead in order for it to be traded.
Equipment for partners
Edit
Partners can be equipped unlike pets, with armor, weapons and resistance. Depending on the nosmate, different weapons and armor may vary, eg Kevin uses swordsman equiptment. The same resistance can be used for partners, but armor must be converted by Bill Smith. This will cost gold and sands of dona. The higher the item level, the more gold and sands of dona ill be required.
Introducing the Partners
Edit
Rhain
Also known as: Bob
Recruit: Time-Space lvl 25
HP: 1738
Mp: 681
Attack: 124-156
Accr: 196
Defense
Magic: 66
Short-Range: 63
Long-Range: 77
Kevin
Also known as: Tom
Recruit: Time-Space lvl 32 Lvl req: 35+
Hp: 4271
Mp: 1471
Attack: 181-229
Accr: 175
Defense
Magic: 95
Short-Range: 104
Long-Range: 99
Kung
Also known as: Kliff
Recruit: Time-Space lvl 49
lvl req: 50+
Hp: 9576
Mp: 3270
Attack: 260-324
Accr: 234
Defense
Magic: 135
Short-Range: 149
Long-Range: 133
Sakurahime
Also known as:Princess Sakura
Recruit: Namaju Raid
lvl req: 53+
Hp: 5035
Mp: 5358 Attributes: 30% water
Attack: 140-140
Accr: 234
Defense
Magic: 70
Short-Range: 46
Long-Range: 44