Ad blocker interference detected!
Wikia is a free-to-use site that makes money from advertising. We have a modified experience for viewers using ad blockers

Wikia is not accessible if you've made further modifications. Remove the custom ad blocker rule(s) and the page will load as expected.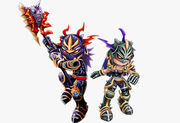 Beserker
(also known as serker) is the fourth
Specialist Card
for
swordsman
, and it is of dark
Element
. Boasting amazing offensive, their defense suffers, although they possess very strong Single Target skills and effective Area Of Effect skills that inflict negative buffs.
Hammer Attacks
Job level: 0
Element: dark
Description:
Skill Effects: Melee attack +120, dark element +150
CP: 0
Cast Time: 0.0 seconds
Distance: 2 cells
Cooldown: 0.8 seconds
Target: Selected
Mp Cost: 0
Bash
Job level: 2
Element: dark
Description:
Skill Effects: Melee attack +360, dark element +500, 10% chance to cast electrical shock: [Disables movement, lose HP every 2 seconds (Caster Lv. *2) for 5 seconds]
CP: 0
Cast Time: 0.2 seconds
Distance: 2 cells
Cooldown: 5.5 seconds
Target: Selected
Mp Cost: 20
Big Swing
Job level: 4
Element: dark
Description:
Skill Effects: Melee attack +360, dark element +300, 20% chance to cast blackout: (Disables movement and attacks for 5 seconds)
CP: 0
Cast Time: 0.4 seconds
Distance: self
Cooldown: 18 seconds
Target: All in 3 cells
Mp Cost: 160
Berserk
Job level: 6
Element: none
Description:
Skill Effects: 100% chance to cast berserk: (Movement +2, Melee attack +400, Defense -200 for 90 seconds)
CP: 0
Cast Time: 0.5 seconds
Distance: self
Cooldown: 90 seconds
Target: self
Mp Cost: 110
Sonic Rush
Job level: 8
Element: dark
Description:
Skill Effects: Melee attack +100, dark element +250, 30% chance to cast serious bleeding: [Lose HP every 2 seconds (Caster Lv. *4) for 20 seconds, 30% chance to cast broken heart disease: (Lose MP every 4 seconds (Caster Lv./3), Movement speed -20% for 30 seconds]
CP: 0
Cast Time: 0.0 seconds
Distance: 5 cells
Cooldown: 14 seconds
Target: Selected
Mp Cost: 120
Over Face
Job level: 10
Element: dark
Description:
Skill Effects: Melee attack +570, dark element +720, 100% hit rate, 50% chance to cast blackout: (Disables movement and attacks for 5 seconds)
CP: 0
Cast Time: 0.4 seconds
Distance: 2 cells
Cooldown: 19 seconds
Target: Selected
Mp Cost: 55
Frenzy Attack
Job level: 12
Element: dark
Description:
Skill Effects: Melee attack +700, dark element +950, 80% chance to cast incapacitated: (Attack/Defense level = 0 ) for 15 seconds
CP: 0
Cast Time: 0.2 seconds
Distance: self
Cooldown: 32 seconds
Target: All in 2 cells
Mp Cost: 150
Armor Break
Job level: 14
Element: none
Description:
Skill Effects: 100% chance to cast armor break: (Defense -80% for 30 seconds)
CP: 0
Cast Time: 1.0 seconds
Distance: 2 cells
Cooldown: 35 seconds
Target: Selected
Mp Cost: 40
Adrenaline Strike
Job level: 16
Element: dark
Description:
Skill Effects: Melee attack +1100, dark element +1200, 60% chance to cast shock: (Disables attacks, movement -3, dodge reduced to 0 for 5 seconds)
CP: 0
Cast Time: 0.5 seconds
Distance: 2 cells
Cooldown: 50 seconds
Target: Special area
Mp Cost: 180
Life and Death
Job level: 18
Element: none
Description:
Skill Effects: 100% chance to cast life and death: [Dark element +500, Lose HP every 2 seconds (Caster Lv. *4) for 20 seconds]
CP: 0
Cast Time: 0.0 seconds
Distance: self
Cooldown: 60 seconds
Target: self
Mp Cost: 100
Tornado Cutting
Job level: 20
Element: dark
Description:
Skill Effects: Melee attack +1400, dark element +1700, 80% chance to cast covered with shield: (Defense is 0 for 10 seconds)
CP: 0
Cast Time: 0.6 seconds
Distance: self
Cooldown: 120 seconds
Target: All in 4 cells
Mp Cost: 200